Laser Electrical Swan Hill provides expert advice, installation and repairs to solar PV systems for our customers in the Wimmera Mallee area.
We have partnered with industry leaders Solahart to ensure we provide our customers with the highest quality service, support and products on the market today.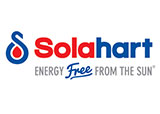 Solahart is an Australian owned and operated company that have been manufacturing solar hot water systems in Australia since 1953. In more recent times Solahart have begun supplying customers with solar PV systems making them a one stop shop for all of your solar requirements.
Our expert staff are on hand to discuss your every need when it comes to deciding what type of system will best suit your requirements. By installing a solar hot water or solar PV system you will reduce your carbon footprint and become environmentally friendly all while saving money on your power bills.
Solar PV Grid Connect Design & Install
Solar power, or photovoltaic (PV for short), has been a much debated topic in recent times. The main question we hear these days is "Is it still worth installing with the feed in tariff being so low?" we are here to tell you - yes it is!
With energy prices at an all-time high, a solar PV system is the most effective means of reducing your power bill. In certain cases we have seen customers' bills reduced by up to 50%.
During the day when the sun is shining power is generated by the solar system and used throughout your house to power devices that are switched on such as fridges, TV's, lights etc. saving you money as you are not buying power, you are generating your own. Any excess power that is generated is exported back to the grid and sold back to your energy provider.
You can further extend these savings by adding a battery storage setup to your system. Excess power that is generated by the system will first be fed into a storage battery for use at night time when the system isn't generating any power. This saves you from purchasing power from your energy provider until the battery is fully drained.
Our expert staff have been fully trained in assessing your bills and power consumption to help determine what size system would be best suited to your power needs.
For further information on either system please contact one of our experienced staff members.
---
Solahart Product Brochures
Need a 'Totally Dependable' solar installation? Contact Laser Electrical Swan Hill to discuss your requirements.
---